Well not been up to much except, a tiny bit of stitching, I am trying to find my stitchy bug! I have been playing with fabric again, making more fabric bowls(I wish I could come up with a nice name for them) and also I have been making a back for Lace elegance so I can make it into a cushion, only...(sorry Hubby is just shouting at the England v USA match) now where was I ...yes the cushion back I did it to size which was great, so I used the rest of the fabric for something else, only then I realised I hadn't put enough fabric on for the opening!!! AAarrrgghh!! So I am on the hunt tomorrow to see if I can find some similar fabric, as I got mine from Kisko.
Excuse my quilting skills, It looks pretty straight to me. LOL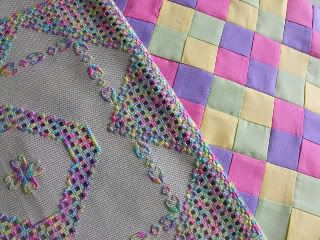 Here is a peek at the colour scheme.
I will share with you another Fabric bowl that I made for Lucy this one is blue with cats on it.